Crocodiles: Sleep Forever
I've liked this band since first-hearing their 'Summer of Hate' release last year...catchy in a Jesus and Mary Chain way: melodic, punk-y, angular, fuzzed-out and pretty. What more could a bleeding heart shoegazer want? Seeing them live, twice, at CMJ 2010 sealed it. Crocodiles are intense, talented and translate above and beyond to a stage setting.
Land of Talk: Cloak and Cipher
Such a pretty album. Singer/guitarist Elizabeth Powell's voice floats above out of breath guitars where the drums take on the role of the hook. 'Cloak and Cipher' would be easy to dismiss as another pretty female-fronted album unless the listener had a chance to fully absorb it and crank it up. It's got a lot of weight and downplays this quality, much like the earlier days of angular indie-girl group, The Sundays.
Javelin: No Mas
This album reminds me of summer and that's good enough for me.
Archie Bronson Outfit: Coconut
Unsettling, weird and amazing. Yes, there's a lot of fuzz, feedback, canned vocals and probably lots of drugs, too, but when the paranoia ABO creates sounds this all-encompassing, it's impossible not to dive in. Throw in weird kitschy elements of glam and ABO comes off as the oddball in the room with the seriously twisted sense of humor.
Sharon VanEtten: Epic
Such honest songwriting by someone who knows her own voice front and back. VanEtten isn't shadowing any ghosts.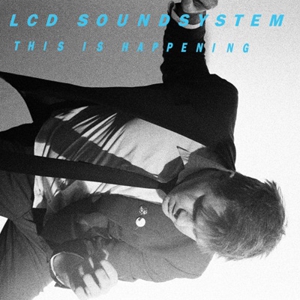 LCD Soundsystem: This is Happening
Man, I love this band so much, and James Murphy pulled another genius-move with 'This is Happening'. "Dance Yrself Clean" is such a jam! Possibly my favorite song of the year.

Gayngs: Relayted
In the spectrum of love/hate, I fell in love with this album based on listening to it countless times while biking to work. On purpose. It's definitely an album to be listened to song-to-song-to-song, and without this symbiosis of entirety, it kinda falls on its ass in some spots. BUT, this didn't leave my biking-to-work-headphones for almost an entire month, so that's gotta be worth something.
Jaill: That's How We Burn
SO pleased that one of my long-running favorite local bands is getting some serious recognition, and they didn't change one sound-iota for their big (Sub Pop) label debut. "Snake Shakes" is my favorite track, hands down.
Cotton Jones: Tall Hours in the Glowstream
This album reminds me of late-summer, its songs acting as lazily-blinking fireflies on this hazy and dreamy album. It made me want to run out and buy an omnichord.
Deerhunter: Halcyon Digest
Stripped-down and expansive, 'Halcyon Digest' is even more welcoming (in its more obvious shying away from introversion) than its predecessor, 'Microcastle'. Its variance in sound and lack of pedal manipulations encircles the listener in, to experience epically-classic pop compositions that are timeless and capable of melting away knee-jerk adaptations to pretension.