Andrew G's Top Albums of 2008
1. Portishead, Third
With the last bass synth blasts of "Threads" chiming like some sort of S.O.S. beacon of desolation, I knew Portishead's Third was the album to beat this year. Third is full of moments like the end of "Threads" where the music turns itself inside out, like a sea cucumber or one of those weird organisms on the bottom of the ocean, and then sucks the listener into the song in a way that is almost physically intimidating or even harming to the listener. I almost expect some portal or wrinkle in time to occur. Other moments would be the stark beat of "Machine Gun", the dizzying drum wobble of "Plastic", the free jazz freak out of the otherwise catchy "Magic Doors" and the hypnotic rush of "The Rip". All of these moments are strung together by Beth Gibbons achingly haunted vocals which reveals the vulnerability of Third. The closest album to Third would be Scott Walker's The Drift (2006) where both albums' intense abstract notion of rock turns the concept of popular music on its head. The key to Portishead's success with Third after 11 years of silence is that rather than sampling a weird 1970's German krautrock band or 1960's French orchestra like they did in the 1990's, they decided to become that band instead. That is why songs like "Silence" or "Hunter" feel like they are lost in a time warp. When a lot of bands are becoming indistinguishable flash in the pans, Third blasts a gapping hole through the monotony and takes rock to another level. It is an album brimming with empathy beneath its harsh exterior that demands to be reckoned with.
2. TV on the Radio, Dear Science
Dear Science is pretty much the only objectively, consensus building, undisputed classic album of 2008. It is interesting, but predictable, seeing how every year end write up of the band says that they have their fingers on the pulse of the times and links this album with its sense of renewal and optimism to Obama's election victory. In the latest Spin, singer and guitarist Kyp Malone expresses some cynicism over the nonstop positive reviews TVOR receives. He feels that it is due to lazy journalism where people are just rewriting what someone else wrote. This seems to outline a possible "Pitchfork" effect where Pitchfork gives an album "9.0" and soon enough Ladies Home Journal is doing a feature on Fleet Foxes or Vampire Weekend. While this effect should be of concern for some bands, it should not be directed at Dear Science. This album is truly undeniable in its vitality and uninhibited sensual celebration of humanity with its soul moving and body moving hot funk on songs like "Crying", "Golden Age", "Owl and Stork," and "Lover's Day." The band even turns up some tender songs like "Love Dog" and the gorgeous "Family Tree" (also seek out on the web the otherwise itunes exclusive bonus track "Dogs of Light"). Dear Science is an uplifting reminder that "the glass is half full" which is in contrast to the paranoid destructive decay of Return to Cookie Mountain. Guess there are some parallels to the recent political climate...?
3. Neon Neon, Stainless Style

Just like how TV on the Radio intentionally or unintentionally had its pulse on the times with Dear Science, Neon Neon's Gruff Rhys (of Super Furry Animals) and Boom Bip foreshadowed the smug CEO doom and gloom surrounding financial and auto collapse along with its subsequent decadent "no strings attached" multibillion dollar bailout. Stainless Style is a cautionary concept album on the American Dream/Nightmare of the CEO behind the DeLorean sports car featured in "Back to the Future" who had wealth and Hollywood mistresses but resorted to smuggling cocaine to save his company and lifestyle of excess in the 80's until he was busted by the feds. But this doesn't stop Neon Neon from shaking like an AIG bailout party with songs recounting everything from golden parachutes to golden showers. Neon Neon appropriately take on a 80's motif for this album with its shimmering melodic electro dance pop with 2008's best singles "I Told Her On Alderaan", "Dream Cars", "Steel Your Girl", "Raquel", and "I Lust U". Neon Neon even have a song on material excess called "Michael Douglas" (chorus: "I need more stuff") in reference to 80's movie "Wall Street." 2008 has really been the year of the retro fitted electro pop with Neon Neon, MGMT, Cut Copy, and M83 all exploring the same nostalgic John Hughes movie sound that seems just as fitting today. While the whole first side of Stainless Style is some of Gruff Rhys best work, the second half drops off somewhat when it gets into spikey rap that is nothing new but is still in line with the album's concept. Overall, Stainless Style plays out like an 80's movie showing the promise of deregulated success but ends with hangover of living out of your sports car.
4. MGMT, Oracular Spectacular
I remember reading in an interview with MGMT that they basically formed because they wanted to make music to annoy their college roommates. It's this approach that makes Oracular Spectacular an exercise in glam/psych ridiculousness with all of its posturing ("He's a rat…rat..") and charitable concern over youngsters (apparent on the irresistible freewheeling "Kids" and indeed "The Youth" is starting to change). This results in a quasi comedy album of musical genre hopping similar to the Flight of the Conchords. It's not surprising that Tim and Eric directed one of their videos. While the spacey funky singles "Time to Pretend" and "Electric Feel" attracted the most attention, it is the rest of Oracular Spectacular that makes the album so great. MGMT is ace with the infectious shaggy prog glam of "Weekend Warrior" and "The Youth" and the mind melt psychedelica of "Future Reflections" and "Of Moons, Birds & Monsters". Oracular Spectacular is also a contender for album cover of the year.
5. Nick Cave & the Bad Seeds, Dig!!! Lazarus Dig!!!

The shtick behind Dig!!! Lazarus Dig!!!'s title track is that the biblical figure Lazarus is resurrected in the seedy underbelly of New York. This scenario gives Nick Cave a reason to take up a sleazy lounge persona and vent with dark humor on the various temptations of sin that Lazarus would run into. But it is Nick Cave's honesty of how his own hands are dirty from indulging and relishing in these temptations that enhances his badass coolness. It's as if Mad Men took place in a 1970's boozy lounge today. Nick Cave's well-read dirty libido directness delivers sharp wit and makes for 2008's best lyrics and vocal performance. This can be heard in the teeth grinding anxiousness of "Lie Down Here (& Be My Girl)", the ranting "We Call Upon The Author", the weary "Hold On To Yourself", the rousing "Midnight Man", and the nocturnal exploratory "More News from Nowhere." This is may be what Interpol would sound like if they had a sense of humor and read a book. For 2008, Nick Cave takes away the prize for best dressed male desperation from the National who won it in 2007.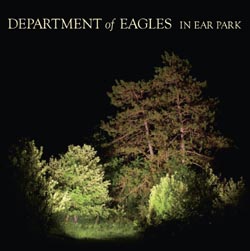 6.
Department of Eagles, In Ear Park
Department of Eagles is basically 75% of Grizzly Bear showcasing Daniel Rossen's songwriting. In Ear Park takes its musical cues from "a northwestern log cabin in Brooklyn" version of Randy Newman and the Beach Boys. This creates an old timey sound that is surprisingly intimate as well as rich in vocal harmonies and orchestration. Songs such as "Balmy Night" and "Herring Bone" echo and take up residence in your head. Meanwhile, "No One Does It Like You" and "Teenagers" sound like lost classics while "Floating on the Lehigh" has a bittersweet funny sad vibe that sounds like a slowed down version of the Curb Your Enthusiasm theme. All in all, Department of Eagles provides a grower of an album that is one of the most durable and rewarding albums of the year.
7. Cut Copy, In Ghost Colours
At first, I did not think In Ghost Colours was anything special. I thought they are just doing what Hot Chip already does better. But the album had enough moments that stayed with you and hooked into your consciousness until the album owned you. For me, these moments were the 80's rush of "Unforgettable Season", the half awake/half dreaming "Midnight Runner", the last minute and a half of "Out There On The Ice", and the guitar power chord break in the middle of "Lights and Music." All of these moments increasingly kept my interest in the album and paved the way for the awesomeness of "Hearts On Fire". By the end of the year, it became obvious that In the Ghost Colours offers the coolness and promise of a lit up swimming pool on an endless summer night.
8. Brightblack Morning Light, Motion to Rejoin
Everything slows down to a syrupy molasses pace when Motion to Rejoin is playing. Brightblack Morning Light plays southern style swampy slow funk that is aided along by some hazy horns and woozy woodwinds. The band takes its time finding the grooves but once it finds it, the band reclines back in it and drifts. This creates an almost hypnotic effect that has the listener slumping to the groove. On Motion to Rejoin, Brightblack Morning Light recalls Air's full sound and Spiritualized's drone dedication. It feels like Motion to Rejoin should be treated as some sort of controlled narcotic.
9. Wild Beasts, Limbo, Panto
Part of what makes rock music so powerful is its ability to express the most frazzled messy impulses of the human psyche and make it look cool while doing so. Wild Beasts perfectly execute this on Limbo, Panto with the disparate and dynamic vocals of its two singers. One singer sounds like a more frantic extroverted Antony Hegarty while the other one has a cool demeanor baritone that wouldn't be out of place on a Doves record. Overall, the contrast of these two singers enhances cathartic punch of these songs. As for the music, Wild Beasts sound somewhat like Orange Juice, Talking Heads, British Sea Power, and an artier abstract Franz Ferdinand. Yet those bands do not prepare you for the awkward soul music that Wild Beasts pull off on tracks like "Vigil for Fuddy Duddy", "His Grinning Skull" and the wistful "The Devil's Crayon." These songs are also wrapped in quaint proper Englishness that attempts to bring some composure to the frenzied tension underneath it which can be heard on "Please Sir" and "The Old Dog". Elsewhere, "Brave Bulging Buoyant Clairvoyants" updates the Talking Heads' "Road to Nowhere" with more knuckle biting. In addition to this great weird pop, Wild Beasts may have the best album closer title in recent memory with "Cheerio Chaps Cheerio Goodbye".
10. Coldplay, Viva La Vida (or Death And All of His Friends)
Viva La Vida is the album in my top ten that I have getting the most flack over. While there are some clunkers on the album ("Cemeteries of London" and the last third of "42"), the majority of the songs were either some of the best singles of 2008 ("Viva La Vida", "Lost!", and "Violet Hill") and some of the best songs recorded this year (awesome album closer "Death and All of His Friends/The Escapist" and "Strawberry Swing"). This success is due to producer extraordinaire Brian Eno who guided Coldplay to a successful formula where Sofia Coppola's Marie Antoinette meets Depeche Mode. There is something to be said about a band with this much heart that appeals to everyone from your Britpop obsessive to your dad to your kid sister. Overall, I have to respect Coldplay's overall ambition to push things forward for themselves instead of easily phoning in another indistinguishable $noozefest (X&Y) of Coldplay lite. Furthermore, Coldplay's ambition and innovation demonstrated why they are not Keane or The Fray and made mainstream radio more bearable while doing so.
The Best of the Rest...
11. Flying Lotus, Los Angeles
12. Vampire Weekend, Vampire Weekend
13. Atlas Sound, Let the Blind Lead Those Who Can See But ...
14. Beck, Modern Guilt
15. Hercules & Love Affair, Hercules & Love Affair
16. Magnetic Fields, Distortion
17. Spiritualized, Songs in A&E
18. Fucked Up, The Chemistry of Common Life
19. No Age, Nouns
20. Santogold, Santogold
21. My Morning Jacket, Evil Urges
22. Blitzen Trapper, Furr
23. She & Him, Volume 1
24. Deerhunter, Microcastle
25. Little Joy, Little Joy
26. Stereolab, Chemical Chords
27. Titus Andronicus, The Airing of Grievances
28. Marnie Stern, This Is It…
29. The Verve, Forth
30. Hot Chip, Made in the Dark
31. Kanye West, 808's and Heartbreaks
32. The Kills, Midnight Bloom
33. Wolf Parade, At Mount Zoomer
34. M83, Saturdays = Youth
35. The Walkmen, You & Me
36. Hold Steady, Stay Positive
37. Stephen Malkmus & the Jicks, Real Emotional Trash
38. Bloc Party, Intimacy
39. Gang Gang Dance, Saint Dymphna
40. Silver Jews, Lookout Mountain, Lookout Sea